In this moment under lockdown, when attention turns within, we are gifted an opportunity to search deep within the shadows of the inner world to discover the values that support us and to meet and heal the harms we have encountered. During this time of challenge, many previous traumas and difficulties resurface, and in seeking to make peace with ourselves we turn for comfort and healing to our heartfelt connection with each other and the earth.
This is the moment to reconnect with our deepest wisdom, and to stand in solidarity, support and connection for all those who seek to live in freedom ...
Endorsement and support
We're hosting this campaign with the endorsement and heartfelt support of our Yoni Shakti network of teachers, as well as:
Josna Pankhania, Project SATYA, Matthew Remski, Laura Doe-Harris of the Yoniversity, Jane Austin, Dr Mark Singleton, Yoli Maya Yeh, Felix Price & Diahanne Love Holder, Ashleigh Freckleton , Dianne Bondy, Melanie Swan of the Sacred Womb, Alexandra Pope, Sjanie Hugo-Wurlitzer of Red School , Jacqueline Hargreaves, Jason Birch, Lucy Arnsby-Wilson DPsych, Laurie Hyland Robertson ..
"I applaud Uma's response to the abuses revealed in Satyananda yoga. It is with gratitude that I welcome her campaign to address abuse and oppression in the global and transnational yoga industry." Dr Josna Pankhania. Human rights activist and seeker of truth, justice and healing in yoga.
"To me, this evolutionary circle holds everything onto which our humanity, values, and ability to be of service to one another relies — consciousness that has shifted from supremacy and conditional protection to equanimity, justice, and freedom — put into heartfelt practice with the utmost care. In deepest gratitude to all." Christie Roe
"I'm all in with my support for the Yoni Shakti Movement. Women need a safe and supportive space to practice yoga free of judgment, bullying and harassment." Jane Austin, Founder/Director Mama Tree Prenatal Yoga School. Director of Prenatal and Postnatal Program at Yoga Tree
"Now more than ever it is time to protect all of us against the continued abuses of power towards women. I endorse the goals of Yoni Shakti the Movement and support this campaign." Dianne Bondy, Author of 'Yoga for Everyone'.
"Uma's work against the abuses of power in yoga is vital and timely. I applaud and support her efforts." Dr. Mark Singleton, Senior Research Fellow, Hatha Yoga Project, SOAS University of London.
"I am so grateful for you using your voice and privilege to speak out, step up and work towards a world where all sisters are safe and free." Lucy Arnsby-Wilson, Psychotherapist and Yoga Therapist
"The work of creating safe spaces for all cannot wait, and it's exciting to see what the yoga community can do with a compassionate voice. I wholeheartedly support Yoni Shakti the Movement." Laurie Hyland Robertson, Editor in Chief, Yoga Therapy Today, and Founder & Director, Whole Yoga & Pilates
Campaign
Imagine a world where all women and girls are free from shame, oppression and abuse, able to live in resonance with the power of their natural rhythmic cycles and in connection with their inner wisdom.
We want a world where everybody's sisters and daughters are safe to pursue their spiritual journeys of reconnection free from abuse. With your help and the help of a global network of millions of yoginis and yogis, we want to help all women to be aware of how to ensure their safety and sovereignty within the often oppressive and disempowering orthodoxy of yoga environments, and to give women the courage to speak out. We intend to dismantle harmful structures and beliefs that create conditions for the abuse of power in yoga teacher-student dynamics.
This is the central message of Yoni Shakti: A Woman's Guide to Yoga and Freedom through Yoga and Tantra and and we're pledging all the funds raised from the launch of the revised and updated edition, available here first, to this movement and public awareness and education campaign.
To make this happen we need to spread the word, to educate yoga practitioners, teachers, teacher trainers and studio owners around the globe. We need your help to do that.
Background
Yoni Shakti: A Woman's Guide to Power and Freedom through Yoga and Tantra was published in 2014. A key section of the first edition was removed prior to printing because author Uma Dinsmore-Tuli's hard-hitting description of the contemporary Yoga Industrial Complex as a 'stinking palace floating on a lagoon filled with corpses and shit' was considered too offensive to publish at that time.
Sadly, Uma's censored prediction in that first edition has now been recognised widely to be the truth. The past few years have seen innumerable revelations and investigations of sexual, financial, physical and emotional abuses committed by teachers under the guise of 'yoga'. There is now hardly a single ashram, school or yoga institution that has not been exposed to be harbouring these harms. The abusive power dynamics common to many individual yoga teachers and gurus have also been reported by brave women who have spoken up, and Uma Dinsmore-Tuli, like lots of other women in yoga, has now heard too many of these stories to keep quiet any longer. She is now fully committed to sharing the evidence presented to her, including the names of teachers and places that she wouldn't want anybody's sisters or daughters to go to. Her intention with this campaign is to educate yoga practitioners, teachers and yoga teacher trainers worldwide to call out existing harm and to prevent future abuses of power.
The uncensored and revised new edition of Yoni Shakti includes a practical checklist of warning signals to protect women in yoga, and a new Warning Prologue sharing a number of powerful statements in verse and prose. It also presents a comprehensive list of organisations and individuals that have harmed women and girls under the guise of the spiritual teachings of yoga. Yoni Shakti Updated and Uncensored is available online from May 2020.
About Uma
Uma Dinsmore-Tuli PhD is a writer, visionary, radical yogini, eco-feminist activist and Total Yoga Nidra advocate. Practicing yoga since the age of four, and teaching since 1994, Uma is a yoga therapist certified by the International Association of Yoga Therapists (CIAYT), with special expertise in yoga therapy for women's health. She is a mother of three, and has written four books on yoga, including the massive and highly influential Yoni Shakti.
About Team Yoni Shakti
This campaign is run by a committed team of women who are passionately, personally and professionally invested in the goals of the movement. This team is Uma Dinsmore-Tuli PhD (Founder), Sophie-Jane Mortimer (Campaign Consultant), Cecilia Allon (Campaign Manager) and Jessica Healy (Campaign Social Media Manager). This team is supported by an extraordinary global web of allies, yoga teacher trainers, teachers and practitioners. We are working as an open network, through heartfelt connection, trust and love without a formal hierarchy.
Why we need YOUR help
The updated and revised new edition of Yoni Shakti includes a comprehensive, practical checklist of 13 Warning Signals that, both protect the safety and sovereignty of women, and empower sisters to spot the potentials for harm within the often oppressive and disempowering orthodoxy of yoga environments. Also outlined are nine practical, simple and direct Calls to Action that can be taken when abuse is revealed.
Through this campaign, we aim to empower, educate, and resource the Yoni Shakti network of 1000's of women to share the 'Empowerment Kit' of the Womb Yoga Manifesto, the Thirteen Warning Signals of Abuse, the Nine Calls to Action. Our intention is to reach 1008 yoga teachers, teacher trainings and studios around the globe. We need YOU to help us reach this goal.
What your contribution will fund
This is what we project the crowd-funding and public awareness campaign will cost for one year. Any funds we raise above and beyond will go to fund further public outreach and campaigning. We will track our progress and give you monthly updates about the success of the public awareness campaign.
Crowd-funding Campaign Costs
Campaign Management: £1000
Campaign Consultation: £350
Warning Signs, Evidence and Calls to Action PDF design and prep: £500
Book club set up and admin: £1,000
Uma's teaching and administration costs for campaign events: £2,000
Gift fulfillment and tech support: £1,000
Contingency and Indiegogo Campaign Fees: £2150
Public Awareness Campaign Costs
Public awareness campaign for yoga practitioners, staff costs for one year: £4,000
Public awareness campaign for yoga teachers, staff costs for one year: £4,000
Promotion and social media campaign for one year: £2,000
TOTAL: £18,000 Thank you so much for helping us reach our goal!
THANK YOU to all our backers so far.
Wow!! We are delighted to announce that we surpassed our £18,000 goal and raised £30,775 !! These extra funds will enable us to gift a Curriculum Overhaul Process to 3 Yoga Teacher Trainer Courses (more info coming soon) and to bring on another team member .
What next? The page will remain open for donations with some perks and all further money raised will fund taking this campaign further and wider.
How YOU can be part of this movement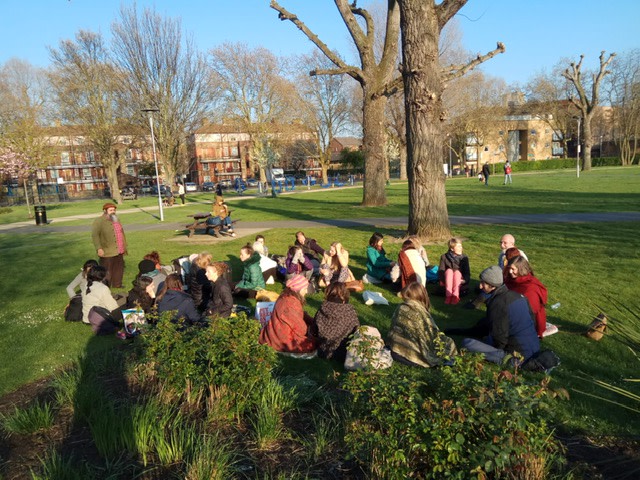 This is an invitation to join a circle of yoginis and yogis in solidarity.
By donating, you are standing in solidarity with those sisters who have experienced abuse in yoga teaching environments, and committing to take action to raise awareness of the warning signals that help us to identify abusive organisations and individuals. Together we can join up the dots, support the survivors and prevent future suffering.
Through your donation, you will become part of the circle of belonging which is Yoni Shakti: The Movement, and receive a series of supportive, informative emails with gifts and tools to inspire and empower you, as well a chance to gather and rest with those answering the call of this campaign.
Every amount is deeply appreciated and will help us to end future abuse by standing in solidarity with all the survivors, and educating our yoga world so that we can together dismantle harmful systems that harbour abuse against women.
A global network of mobilised yoginis and yogis can crowdfund a public awareness campaign fast and you will each have the opportunity to be part of this campaign, spreading the word in your community and educating yoga practitioners, teachers and teacher trainers.
Help us to build this campaign fast, and end the abuse of our sisters and daughters.
Join us in Yoni Shakti: The Movement and together we can reveal the truth, honour the survivors, raise awareness and dismantle the structures that harbour these harms.
How YOU can help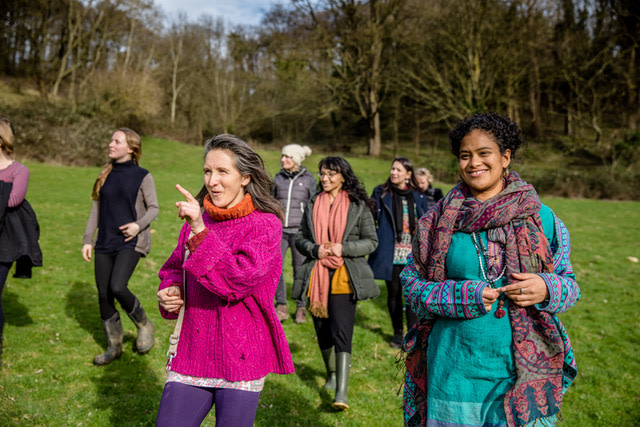 Every time you share this campaign with a friend, you help to grow this movement. Thank you SO much for sharing it with your community:
Share it on Facebook Email it to five friends Tweet about it Invite your friends to the Facebook group
THANK YOU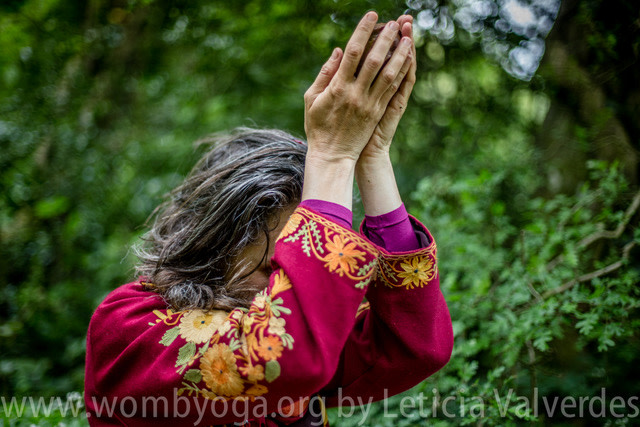 We hope you'll support us to fund this Public Awareness and Education Campaign that enables us all to work together to Eradicate Abuse of Women in Yoga and Reclaim Yoga as a Tool for Healing and Justice - this will involve sharing Warning Signals, creating book clubs, distributing of educational materials, support for educators so we can JOIN up the DOTS and ensure our sisters are safe to practice yoga free from abuse.
Your generosity is invaluable, thank you so much! Uma and the Yoni Shakti Team